Light the Night Shooting Star - Winston Lin
20 October 2020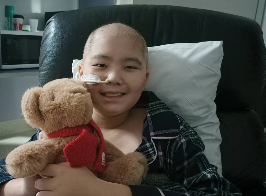 Winston was like any other 11-year-old boy – he enjoyed going to school, playing sports (hockey and basketball are his favourites), and playing with his friends.
This all changed on May 6th this year, when Winston was diagnosed with T-acute lymphoblastic leukaemia.
"This year was really tough, and even tougher when my doctor said that I had blood cancer," Winston told us.
"I thought going to the hospital was going to be okay, but I realised that things were going the opposite way around. I was becoming sicker every day."
Soon, Winston was moved to an Intensive Care Unit. It was an incredibly worrying time for him and his family, as overnight Winston became unable to do all the things he loved doing before with his friends and family.
At times, Winston only had his toy bear to keep him company.
Fortunately, Winston is now back at home with his family, although staying in isolation due to COVID-19 has proved tough too, he says.
"Though I have spent lots of time in isolation for cancer treatment, being in isolation again due to COVID-19 has been challenging. I met a few friends that had blood cancer too, though. I think it's good to have friends around."
Winston's blood cancer journey has undoubtedly been one of the most challenging experiences of his life so far, but with the support and love of his friends and family, he says he's been able to keep his head high and show cancer who's boss – getting through it all with a smile.
"When you are in a difficult situation like this, people feel sorry for you, but you have to make sure to bring light and positivity to your own story," Winston's family said.
"We've received so much help from people, so we want to give back and help other families going through this too."
Winston has managed to raise an incredible total of over $10,000 while fundraising for Light the Night this year, with no signs of slowing down. This makes Winston one of our Light the Night Shooting Stars!
Congratulations on your amazing efforts Winston – we couldn't Light the Night without you and your phenomenal generosity and selflessness.