A Life-Changing Morning: Brett's Blood Cancer Battle
13 July 2020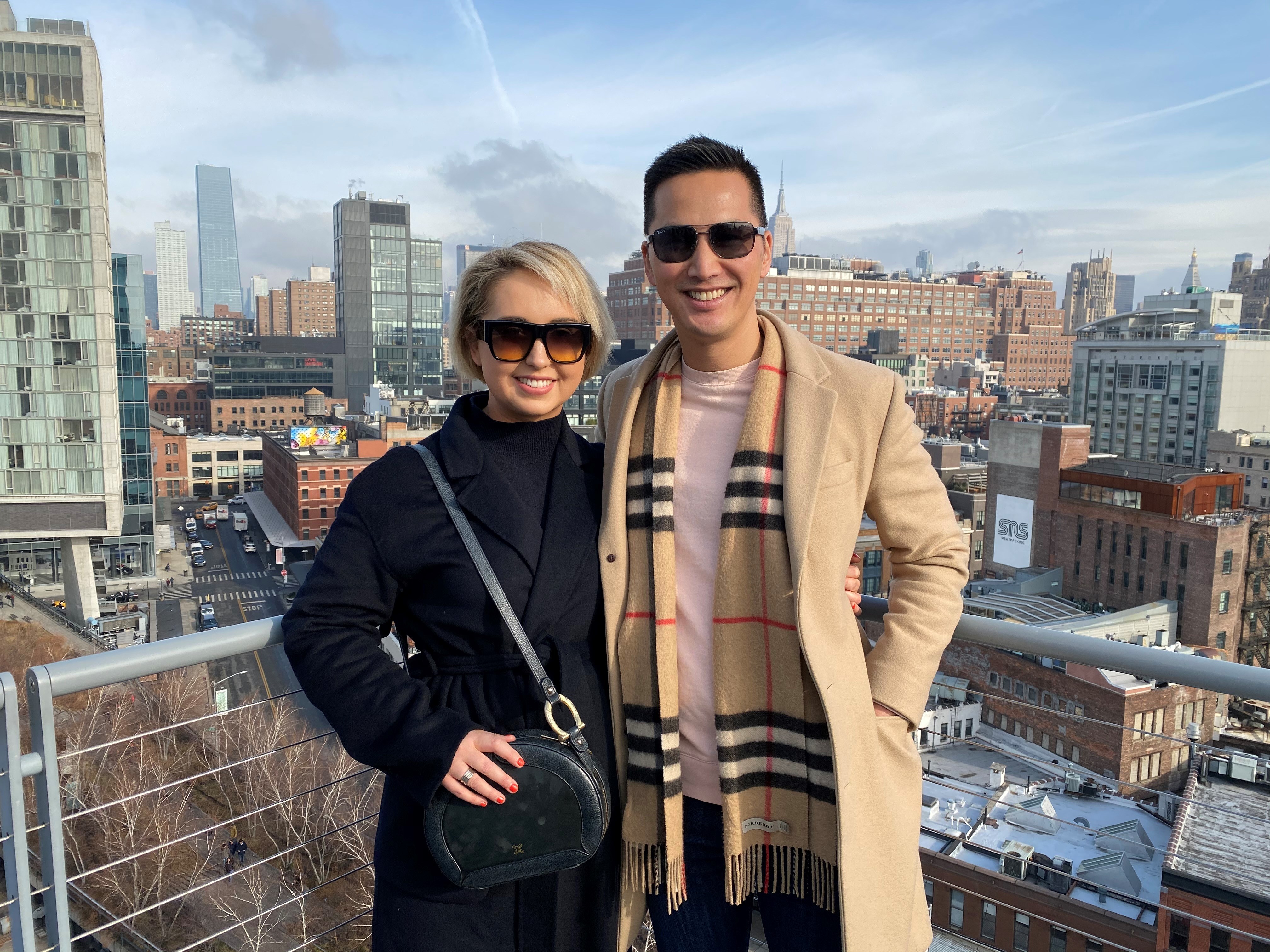 On Valentine's Day 2018, 26-year-old Brett Conley (pictured left) unknowingly left her Melbourne apartment for what would be the last time that year.
Since Christmas, she had been suffering from regular fatigue, muscle soreness and night sweats. On her way to work that February morning, her nose began to bleed—and it didn't stop.
"I went to the only GP I could get to that morning. It was just meant to be a quick twenty-minute appointment before work. I showed the GP a rash I had across my chest and legs and told him about the night sweats and the nose bleeds. He knew right away," Brett said.
"I was shocked when he told me that these symptoms could be consistent with lymphoma or leukaemia... I only lived about two minutes' drive from there, but the GP said he really thought I should go straight to the Emergency room."
Still in her work clothes, Brett was taken to the emergency room at Epworth Hospital in Richmond.
"We got the blood test back and they knew straight away that I had leukaemia," Brett said.

Brett was diagnosed with Philadelphia Chromosome Positive Acute lymphoblastic leukemia.
"The nurse that I had actually cried. She cried and said, 'I'm really sorry.' When a nurse cries in emergency, you know something's really wrong."
Later that afternoon, Brett was transferred to another nearby hospital where she would begin her treatment. She describes that afternoon as being nothing but surreal.
"My parents had caught the first flight down to Melbourne and so I was there with my boyfriend," Brett recalled.
"When my mum and dad got there, they were hysterical. They'd never met my boyfriend before that, so I was like, 'Mum and Dad, this is my boyfriend...' They were distraught."
Later, Brett would hear from doctors that there was a high chance that she would be infertile after her treatments.
"It was a lot all at once. In that moment, I started to realise how serious this was," she said.
Brett never went home to pack a bag. Her parents and friends cleared her apartment and soon Brett was forced to begin acclimatizing to her new life in hospital.
When reflecting on her blood cancer journey, Brett remembers that first month as being one of the most affecting for her, as she reckoned with the reality of her diagnosis.
"I used to cry every Friday night because I just wanted to be out with my friends and go out for after-work drinks. It really affected me knowing I wasn't going to be with my friends anymore. Not going to work, just constantly lying around feeling sick really got me down. That was the hardest thing—accepting that it would take me a while to get back there."
In her times of feeling isolated in the hospital, Brett says she found connection through a young consultant she'd often speak with.
"I really connected with her," Brett said. "I'll never forget what she said one day—she said: 'Honestly Brett, just accept that this year is going to suck and then you can get back to it.' When someone just said it to me like that, I thought, 'Oh, okay, I can do that.' What she said turned out to be true, and really important. It gave me a timeline, and I knew I wasn't going to be unwell forever."
After full body radiation treatment and a stem cell transplant in July that year, Brett's treatment timeline was reduced from three years to six months.
"I was really unwell until about December. All in all, I had a year off work before going back," Brett said. "I think physically, I was kind of able to get back to usual, but mentally I hadn't really recovered for another year. I found that I didn't have the mental capacity that I did before I got sick. My memory was terrible. I don't know if it was the radiation, 'chemo brain' as they call it, or stress about everything, but I would often forget words or the names of people I knew well."
"It was really upsetting because I knew I was more capable than that, but I had big gaps in my mental capacity. A year and a half on from the transplant, I've really found my feet. I can work like I used to again, but it really did take a year and a half to get to the point where I am now."
Though Brett is in remission and now back to work, she says that certain aspects of her life have been unquestionably changed forever.
"I've definitely been more conscious of my health. I appreciate that I've been quite lucky in my recovery," Brett said.
"I do have some long-term health effects, but I can now exercise more than beforehand. I'm just making sure I'm doing everything right so that I'm in the best physical shape I can be if anything pops up again... I'm making a really conscious effort with my friends, making sure that I tell them how important they are to me, and really valuing everything that I took for granted previously and thought I was missing out on when I had my treatment."
In 2019, Brett was a white lantern ambassador for Light the Night. Recalling her time in the hematology ward, she reflected on the importance of Light the Night and connecting with other patients with similar diagnoses or stories.
"When I was in the hematology ward, I was the only young person there. There was one week where there was another girl there with lymphoma who was having treatment and we shared a room, and that was lovely. But otherwise there was no-one there I really connected to with a similar diagnosis with me," Brett said.
"Light the Night was a real bonding experience because there had been so many times I had felt really alone, like I was the only person in the world with my diagnosis. No one was afraid, and it felt like we were a part of something, which is often hard to feel when you're in a hospital and sometimes the last thing you want to do is socialize with other patients..."
Brett's parents also attended the event and were able to connect with other parents and carers who had been in, or were currently going through similar experiences.
"I know mum and dad would have felt so isolated at times, though they would never have told me," Brett said. "It was nice to have a few hours to be amongst people who had been through a similar thing."
For Brett, Light the Night served as an important moment and opportunity to connect with other members of the blood cancer community.
"It's really hard to find positive experiences that you can relate to or talk to and hear from people in a similar position. If you're a new person going through diagnosis, sometimes you just want to hear that it's going to be okay and that there are people who get through it... It's really important to hear there can be a way out," Brett said.
"The focus wasn't just on other people who had leukaemia either. It was so nice to hear from researchers who dedicate their lives to improving treatments. But also, remembering that people do unfortunately pass away from blood cancer, and having an opportunity for people who do have loss and grief in their lives, whether it's a loved one or someone they've known to come together and show that there's a light at the end of the tunnel—that we're all in the same boat hoping that things get better for everyone."
As the Light the Night white lantern ambassador for the 2019 Melbourne walk, Brett said the gravity of the moment wasn't at all lost on her.
"It was the best. I felt so proud to have the lantern that represents people who have had leukaemia and to look well myself despite it all. To give hope and show that people can get better... to be able to visualise and see someone who's gone through it, rather than just hear about it, is something else completely."
You can sign up to help light the night this year at
https://lightthenight.org.au/#signup
and share your story with us via #LightTheNightAU on Instagram.